Business cards are often a blur of bright colors designed to make you look here! Take action! Call now! It can get a little overwhelming with so many different colors all vying to catch your eye at the same time.
Having a black and white business card is a way to make yourself stand out from the colorful crowd. Its neutral color palette makes it seem understated at first glance—but take a closer look, and you'll see just how bold a black and white business card can be.
To help you get inspired, here's a collection of great black and white business cards from the design gallery and from the creative team at Company Folders.
Videogame development studio We The Force opted for a bold black card that's hard to ignore. Its letterpress printed slab serif font and textured stock command attention from the moment they land in recipients' hands.
These business cards for Superrb Studio combine Ebony Duplexed card stock and bright white ink for a sharp-looking design. The round script font adds a fun, youthful feel.
White sound equipment on black silk paper creates the perfect imagery for sound engineer Iason Stavrakakis. This clever business card is designed by Thalassinos Anastaslou.
For creative agency Tilt, Steve Paterson made a great functional design: business cards that double as coasters. Metallic silver foil stamping brightens up the black cards and draws attention to the brand name.
This stunning black and white design for Thirty Dirty Fingers uses thermo-sensitive ink. Wherever recipients touch the black card, their body heat will turn it white for a neat interactive experience.
A sketched illustration of a dead bird showcases Levita Design Studio's artistic skill and offbeat sense of humor. The cards use a combination of silkscreen printing and foil stamping.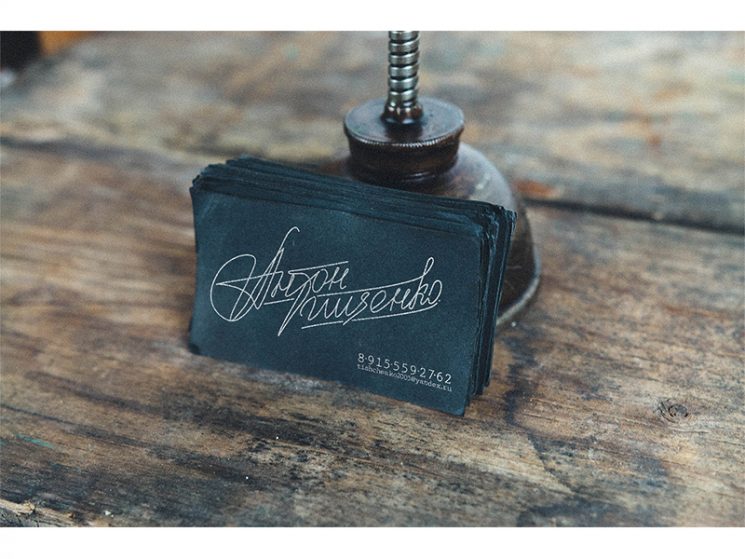 This fabric design by Daria showcases the cardholder's personality with a stylish script font. The white font and white smudges on the black fabric calls to mind a classroom chalkboard.
Investing firm Plus Capital Partners opted to create two different cards: one black and one white. Both cards use letterpress printing and include the brand logo stamped in non-metallic foil.
This super cool design for tattoo artist Jerod Squared revolves around highly detailed letterpress printing. Thanks to its striped lower half, the big bubble letters create space. Contact information is limited to the heading, which has a smooth background that makes it easy to read.
This cotton charcoal business card is a cool variation on a black and white business card. It's still neutral, but its gray hue looks warmer and a bit softer. The laser die-cut letters add an industrial feel to top off the design.
This design for Luke Lucas looks white, but it's printed with phosphorescent ink that glows bright green in dim light. Its glow-in-the-dark text and swirly script font are proof that an all-white card doesn't have to be boring.
Gently curved corners and a quilted pattern lend a high-end look to this business card for the Sapphire Ring Co. Its matte finish gives a soft, smooth touch to the design.
An intricate business card embodies FZ Media Design's love of typography. Its variety of fonts and banners work together to create a nifty vintage vibe.
This letterpress printed design for Mordango uses white space and a crooked display font to create a handmade style. As an added bonus, it's made of eco-friendly recycled paper.
A teddy bear embossed on one side of this business card stands above the stock to emphasize Teddy Bear Holding's brand name. On the flip side, a second version of the bear is indented in the stock to reverse the original texture.
Custom double-sided cards for Gustavo are letterpress printed on top of a blind deboss to give the brand name maximum texture. This striking minimal design was printed by Dolce Press.
Letterpress printing on cotton paper gives this business card for Lightbulb Design Studio a slight texture. The debossed light bulb in the upper left corner creates a more extreme indent to emphasize the brand's name.
The 12M Design Studio business cards use letterpress printing to create imperfections on the logo and text, giving it a handwritten vibe. These minimal cards were designed by Hans Bennewitz.
Tricota's black and white business cards are more than an example of good design; the recycled paper is also good for the environment. The cards are designed to be torn in half and shared among multiple recipients.
Business Card Printing